Best Alternative to The Aurora 530 Series, 531 & 532 Simplex One-Stage Column Pump
Industrial vertical sump pumps are designed for moving water and other liquids from deep pits. Sometimes called immersion pumps due to the fact that the pump casing is immersed in the fluid, their accommodating design makes them incredibly useful in a variety of applications.
Of the numerous sump pumps available, the Pentair Aurora 530 series, 531, and 532 column pump was well known in the pump world. Pentair discontinued manufacturing this pump in mid-2019.
Without any direct replacement produced by Pentair, choosing a pump that meets the required criteria will be a bit more challenging. There are several alternatives available. Most vertical sump pumps manufactured by other companies offer different dimensions than the Aurora 531. This means that they will not be a direct "drop in" and you may have to replace the piping and make significant changes to the baseplate. If you want a great alternative that only requires minimal adjustments, you should check out the Carver Pump G2S series.
The Carver Pump G2S Series: The Best Alternative to The Pentair Aurora 530 series, 531, and 532 Column Pump
Ideally, the replacement for your Aurora 530 series pump will have the same dimensions. Unfortunately, few pumps fit that bill. One pump that comes very close is the Carver Pump G2S series. Like the Aurora 531, the G2S is also a vertical column pump. While the dimensions are not identical, installing a G2S in place of your Aurora 531 will only require minor adjustments.
Plus, Carver Pump is a flexible company that can manufacture baseplates to match your Aurora 531's dimensions. That is why replacing the Aurora 531 with the G2S will be smooth and straightforward.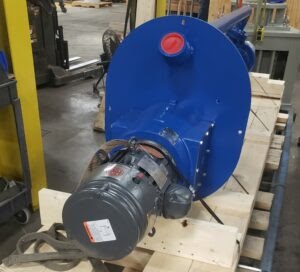 G2S with an Aurora Style Baseplate
Like the Aurora 531, the G2S can also come in cast iron, stainless steel, or stainless steel fitted construction. Other materials are available upon request based on application.
Overall, the Pentair Aurora 531 and Carver Pump G2S are very similar to one another. Now that the Aurora 531 is no longer available, more engineers and distributors choose the G2S as the best alternative.
Features of the Carver Pump G2S
Aside from having similar dimensions as the Aurora 531, the G2S is also an excellent replacement due to its features.
Based on the same wet-ends as horizontal pumps, the G2S offers extensive hydraulic coverage. It can pump up to an outstanding 2,500 GPM and reach depths up to 22 feet.
There are a variety of options with the G2S. Should you need a pump that can handle corrosive materials, the G2S in stainless steel construction can take on the job.
This pump's design makes maintenance easy. The G2S external axial adjustment allows for easy service and continued operation efficiency.The bearing frame is above the mounting plate which allows easy accessibility to the bearings to grease or to replace .
Furthermore, the G2S has spiral grooves at the shaft bearing of the casing. This design helps reduce spray and foaming.
Finally, you get various sealing options with this pump, from a standard lip seal to component or cartridge mechanical seals. If you need a pump for vapor-tight operations, you may also have dry-running seals or double mechanical seals with a plan 52 or 53 flush applied to your G2S.
All of these features make Carver Pump's G2S the best vertical sump pump for water, hydrocarbons, and acid and alkaline solutions.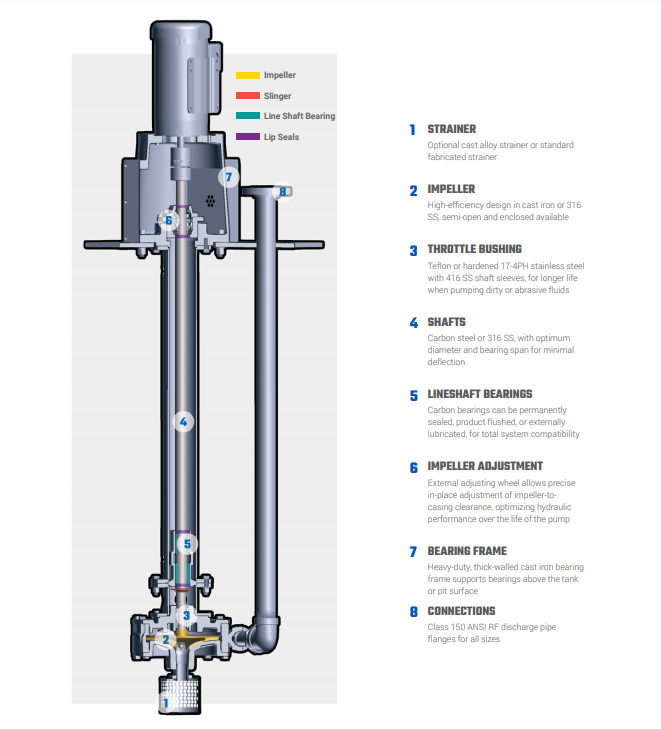 Aurora 530 series, 531, 532, and Carver Pump G2S Use Cases
Not only are the Aurora 530 series pumps and the G2S comparable in dimensions, but they also perform the same tasks. No matter what purpose your Aurora 531 is currently serving, the G2S can quickly take over with minimal adjustments to your system.
The Aurora 531 and Carver Pump G2S are excellent for pumping liquids in deep and hard-to-reach areas. NPSHr is not typically a concern for the 531 or the G2S because these pumps usually don't have a suction line. Instead, they have their impeller right at the bottom of the pump.
Use cases for the Aurora 531 and the Carver Pump G2S include:
Sump Collection and Drainage
Whether you're working in an industrial building basement or in a tunnel, unwanted water is bound to pool somewhere. This Should gather at your sump tank, where a sump pump can quickly get rid of it.
Sump tanks hold water, preventing it from reaching the dry areas of industrial buildings. In tunnels, these tanks ensure the tunnel won't flood after heavy rains. Whether this liquid is rainwater, wash-water, or some other fluid, the liquid in sumps tend to be dirty. There also may be several chemicals mixed in.
With the Aurora 531 no longer in production, the Carver G2S, which has a strainer at the suction and can pump some solids and abrasives, is your best option for sump drainage.
Alloy 20 in Sulfuric Acid Applications
Carver's engineering and design flexibility give us an advantage that many other manufacturers aren't able to help with. An example of this is when a power plant had a self-priming, non-metallic, PVDF (Polyvinylidene fluoride) end-suction horizontal pump the customer was using in their sulfuric acid application needed to generate 9 feet of lift and was not holding up to the application requirements.
Carver pump went back to their engineering team and found that the Carver G2S (GVS) was a great solution. To read more about this specific story go to the Carver Pump website.
Mining and Excavation
In mining and excavation operations, the removal of surface water and groundwater is critical. Dewatering the area increases stability in the mine's walls, making mining and excavation much safer for everyone involved.
Because mines bore deep into the earth, there is bound to be groundwater in the area. This water undermines the structural integrity of excavated pits and can be very dangerous. Thus it is essential to have a dewatering system to transfer this water elsewhere and to remove any new rainwater that comes down.
Depending on how the mine is configured to collect water, a sump pump can be perfect for this job. Sump pumps go deep into areas that are otherwise very difficult to access. With the impeller at the bottom, pushing liquids up from great depths is not at all problematic for the Aurora 531 and Carver Pump G2S.
The G2S is at the forefront of mining and excavation vertical sump pumps. Aside from its outstanding features, the Carver G2S is also very adaptable in many different types of working conditions You can even install it on a floating platform for easy repositioning within the excavation site.
Other Use Cases
There are many other use cases that the Aurora 531 and Carver Pump G2S handle very well. Anytime you need to remove liquid from deep and hard-to-reach areas, the Aurora 531 and Carver Pump G2S will get the job done for you.
About Carver Pump
Carver Pump is one of the leading manufacturers of centrifugal pumps. Based in Muscatine, Iowa, all Carver Pump pumps are American-made to the highest quality standards.
Carver Pump's quality management system is certified by Intertek to conform to ISO 9001:2015.
Our commitment to quality includes not only our hardware, but also superior customer service, leading-edge R&D, and continuous improvement in everything we do.
Carver Pump builds pumps to the most demanding engineering and military specifications. So whether you're working on a quarry or need a reliable pump for your reservoirs – Carver Pump has the perfect solution for you.
Founded in 1938 by Roy Carver Sr., Carver Pump now has over 80 years of experience building world-class centrifugal pumps.
Conclusion
The Aurora 530 series was undoubtedly a widely accepted vertical column sump pump. However, now that it's no longer in production and has no direct replacement, distributors and engineers need to find an alternative.
There is no better alternative than switching to Carver Pump, because the G2S series is the perfect replacement for the Pentair Aurora 530 series, 531, and 532 pumps.
Contact Carver Pump today and find out how you can get your hands on the best alternative to the Pentair Aurora 530 series, 531, and 532 column pump.