More


Vertical, Cantilevered Pump
The design is a cantilever style unit that features non-wetted radial  and thrust bearings located above the support plate, with a throttle bushing located immediately above the impeller. The G2C is Carver's vertical pump for handling fluids at moderate to high flow rates. The standard design is a cantilever style unit.
The G2C is based on the same hydraulics as our vertical sump and horizontal, end-suction pumps. For simplicity, there are only two sizes of bearing frame/motor mounting brackets between the 23 sizes of units. The bearing frame/motor mounting brackets are a one-piece design to insure rigidity and alignment integrity.
As a standard, these units are typically offered in two column depths. The standard column setting has a 12 inch distance between the bottom of the mounting plate and back of the pump casing. The extended column setting is twice this length.
The basic G2C design consists of a pumping (wet) end, column, bearing frame wit integrated motor mounting bracket and top plate. All models feature external impeller adjustment, bearings above the liquid surface, no mechanical seals to maintain, full compatibility with standard NEMA 'C' face motors, and some of the most efficient hydraulics in the industry.
Available as an option, discharge piping with Class 150 ANSI flange dimensions can be included (either standard or oversized) on an enlarged support plate should it be a requirement of the installation. Additionally, 316 SS underliners for support plates, suction strainers, inlet tail pipe, external flush lines, and accessories such as automatic greasers and control panels with float switch actuators for automatic start/stop sequencing are also available.
Hydraulics
Flows To
2,500 US GPM
570 m3/hr
Efficiencies To
85%
Solids To
1.250" diameter
32 mm
Power to
150 HP
110 KW
Speeds to
3,550 RPM
Hydraulic Coverage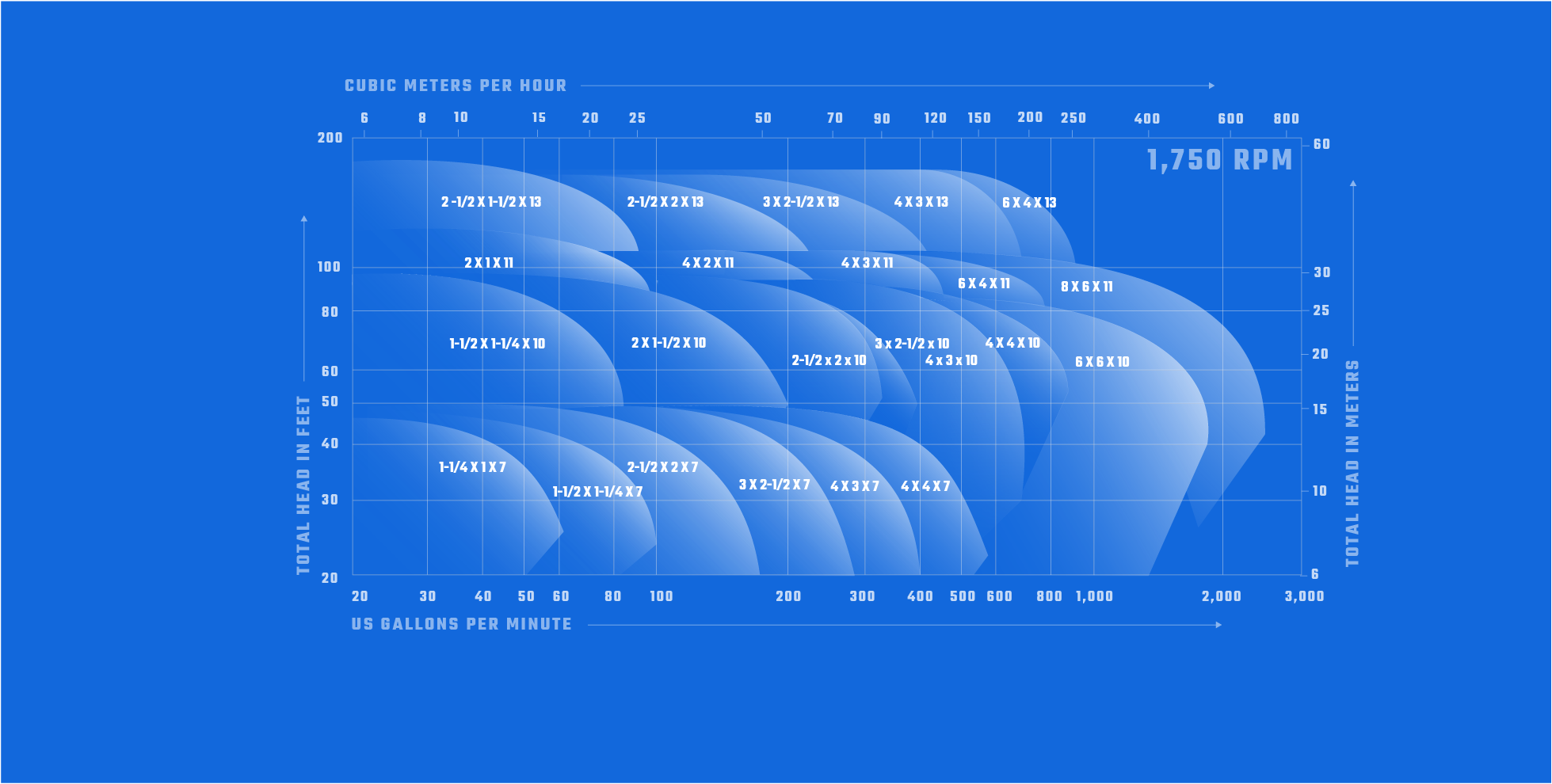 Specifications
Materials of Construction
| | |
| --- | --- |
| Casing | Cast Iron or 316 SS |
| Impeller | Cast Iron or 316 SS |
| Piping | Carbon Steel or 316 SS |
| Throttle Bushing | Teflon, Steel, 316 SS or 17-4PH SS |
| Top Plate | Carbon Steel or 316 SS |
| Shaft | Carbon Steel or 316 SS |
| Shaft Sleeve | 416 SS |
| Other materials of construction available upon request. | |
Design Data
| | |
| --- | --- |
| Rotation | Clockwise as Standard |
| Input Power | Up To 75 HP |
| Discharge Pipe Connection | Class 150 ANSI Drilling |
| Bearing Lubricant | Grease |
Features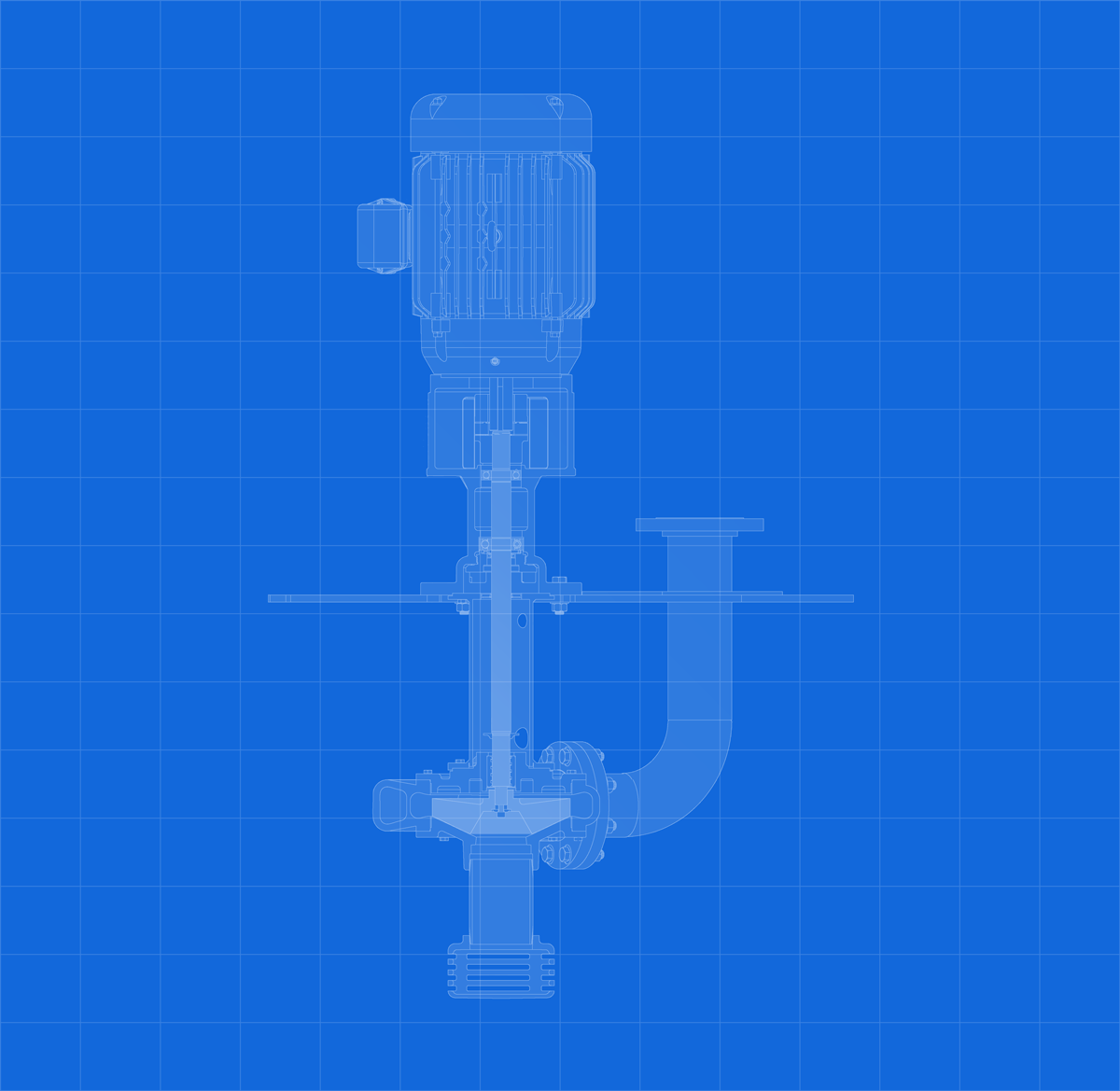 Strainer
Optional cast alloy strainer, standard fabricated strainer.
Impeller
High-efficiency design in cast iron or 316 Stainless steel.
Throttle Bushing
Teflon or hardened 17-4PH stainless steel with 416 stainless steel shaft sleeves for longer life when pumping dirty or abrasive fluids.
Shafts
Carbon steel or 316 stainless steel, with optimum diameter and bearing span for minimal deflection.
Impeller Adjustment
External adjusting wheel allows precise in-place adjustment of impeller to casing clearance, optimizing hydraulic performance over the life of the pump.
Connections
Discharge pipe flanges for all sizes.
Bearing Frame
Heavy-duty, thick walled cast iron frame supports bearings above the tank surface, protecting them from fluid and vapors.
Talk to a pump expert
+563.263.3410