What Makes the API Pump so Expensive, and What Can I Do About It?
API 610 is the American Petroleum Institute's standard for ultra-reliable process pumps. The standard was born out of the needs of refineries, which no doubt present some of the most difficult conditions—high-temperature hydrocarbons with very high reliability and safety requirements. Although refinery pumps are in API 610's DNA, the standard is applied in a variety of other industries and processes that require mission-critical pumping.
Many facility operators and engineering firms use API 610 as a starting point and add their own company and process-specific overlays, which allow the API spec to be tailored to a variety of refinery and non-refinery applications. Because many of these non-refinery applications present different conditions, the off-the-shelf API spec may not be entirely appropriate. In fact, 100% adherence to the standard might result in a pump that is over spec'd for the application.
To help customers determine how much of the standard to adopt, we compare two versions of our Maxum engineered pump: a fully-compliant Maxum API 610 pump vs. a Process Maxum version with some features removed. Although any particular application may require some customization, the feature sets below give a feel for some of the design features included in API 610.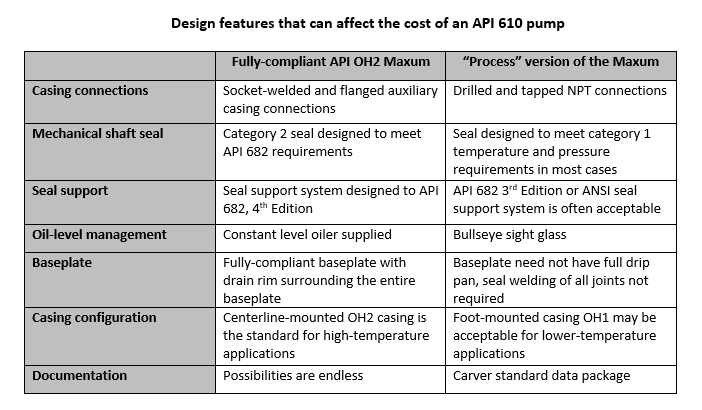 The selections in the table above are somewhat generic and should be tailored to the requirements of the particular process.
Casing connections
API 610, Section 6.4.3 requires auxiliary casing connections other than the seal gland to be a flange that is either integral, socket or butt-welded. Like many requirements of the standard, this is intended to ensure safety when hazardous fluids are present. For less hazardous processes, NPT connections may be sufficient.
Mechanical shaft seals
The API 610 covers the design of the chamber and surrounding geometry but offers little guidance on the selection of seals. For seal design and selection, there is a separate standard, API 682. Needless to say, seals can be very expensive and it makes little sense to buy too much seal for the application.
Seal support
API 682 specifies detailed requirements for the seal support system. The 4th Edition guides toward the use of pressure transmitters rather than switches. Lower cost options are available, especially if allowed by the temperature and pressure requirements of the process.
Bearing housing oil-level management
Section 6.10.2.2 states that bearing housings must have a constant-level sight-glass oil feeder of at least 4 fluid ounces. It covers a number of other bearing lubrication schemes, such as oil mist, which would of course preclude the use of a constant-level oiler. At Carver, we include constant-level oilers as standard for our API 610 OH2 pump, and a bullseye sight glass as a cost-saving option on the process version of the pump.
Baseplates
Section 7.3 requires a number of design features, including accommodations for contained drainage and continuous seal welding of all seams on both sides, to contain corrosion. Our fully-compliant baseplate has extra structural reinforcement to meet the shaft deflection requirements of the standard. However, depending on the installation, some of these features may not be necessary.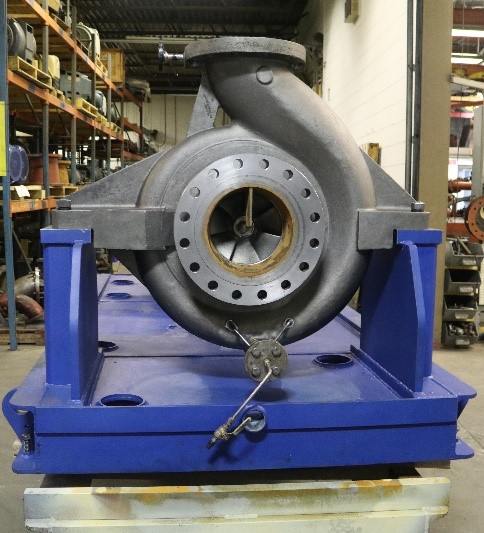 Casing
While Section 4.2.2 clearly states that the OH1 foot-mounted casing "does not meet all the requirements of this international standard", Section 6.2 states that an OH1 casing can be provided if specified by the purchaser. A foot-mounted casing can reduce the cost of baseplate fabrication and meet all process requirements for processes with fluid temperatures below 300°F.
Documentation
Section 10 of API 610 is fairly generic and allows for documentation that meets the engineering requirements of the project. While the rules do not seem overly onerous in this respect, in our experience, software delivery has the potential to contribute greatly to the cost of a pump. Additional testing, calculations, data books, and their associated revisions can add significant costs.
The features described above are just a sampling of the hundreds of design requirements outlined in API 610. At Carver Pump, we believe in meeting the unique needs of each application, without adding on unnecessary and costly extras. API Maxum Techbook