Your Guide To Close Coupled Centrifugal Pumps
A close coupled pump has a wide range of applications including marine, industrial, commercial, and municipal, These pumps are versatile and have the ability to move various fluid types reliably and efficiently.
From pumping freshwater, seawater, or light hydrocarbons to fluids with entrained solids, a close coupled pump could be your solution.
What Is A Close Coupled Pump?
A close coupled centrifugal pump is identifiable by having a single, continuous shaft between the motor and pump, rather than 2 shafts coupled. Due to the compact design of a close coupled pump, you won't easily see the shaft. The pump casing is typically bolted to the drive end of the motor instead of being installed on a pump bearing frame. With only a single shaft, a close coupled pump often has many benefits over a traditional frame mounted pump.
These pumps are used throughout the world. Popular manufacturers and models of close-coupled pumps include Carver Pump model GH and Aurora model 340, 341A. Close-coupled pumps are called monoblock pumps in some European countries.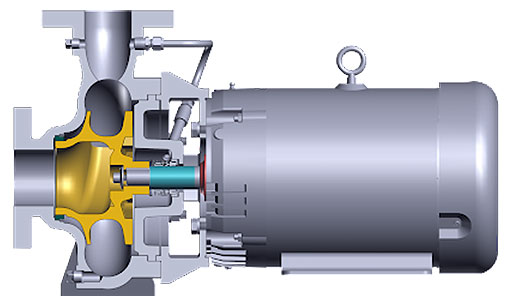 Why Choose a Close Coupled Pump Over a Frame Mounted Pump?
Cost-Effective and Simple Construction
The simplicity of the pump and motor design creates savings during manufacturing, installation, and long-term maintenance. By having fewer moving parts and a single shaft, the total lifetime costs of a close coupled pump may be lower than a frame mounted pump for the same application.
Smaller Floor Coverage
The total footprint of a close coupled pump is smaller by design since there is a single continuous shaft from the motor to the pump, this eliminates the pump's bearing frame and reduces overall length. Without the need for a coupling, this configuration also removes the need for a common baseplate between the motor and pump.
The smaller footprint makes close coupled pumps easier to fit in space-constrained areas making them ideal for marine applications as they can be mounted both horizontally or vertically.
Other Advantages: No Alignment, No Separate Bearing Frame, and Baseplate Only When Necessary
Close coupled pumps are always attached directly to the motor. The motor then supports the weight of the pump and the motor bearings then take the load of the pump. For this reason close coupled pumps eliminate much of the complexity associated with frame mounted pumps. Time and cost savings come from the fact that a close coupled pump doesn't require a baseplate, coupling, field alignment, or bearing frame.
What Do Close Coupled Pumps Look Like?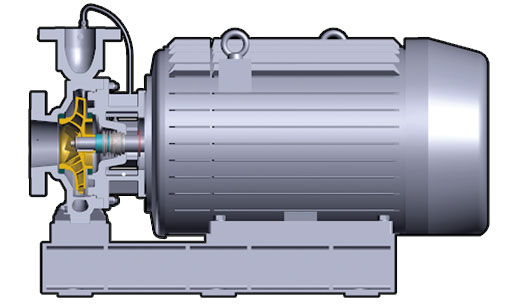 The M-series Carver Pump has an enclosed impeller mounted directly to the motor shaft. For these centrifugal pumps, outside of the motor bearings, there is no additional required bearing assembly.
Different Classes of Close-Coupled Pumps
Plastic pumps
These pumps are used for handling fluids that are corrosive and not well suited for metal pumps. These are often found in light duty, low pressure applications such as pools and fountains.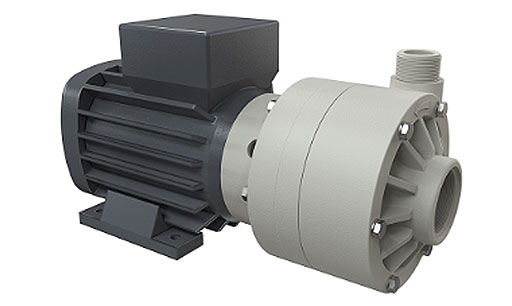 Debem MB Plastic Chemical Centrifugal Pump
Stamped stainless steel pumps
These are low cost and used typically for clean water applications and booster systems. The stamped parts are inexpensive to manufacture, and are acceptable for light duty, clean water applications. These are found in a lot of food and beverage applications, as well as other applications with sanitation requirements.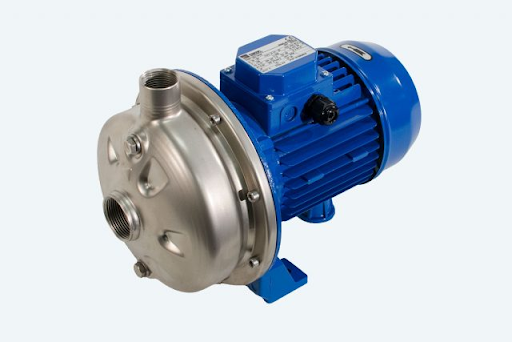 Photo Courtesy of Ebara Pumps.
Multistage pumps
Multistage pumps can also be close coupled. Multistage pumps are used where more TDH is required than a single stage pump can produce. Additional stages produce more pressure than a single stage pump. These pumps are also made from stamped stainless steel and are used for clean water light duty applications. For anything requiring more pressure or flow a multistage pump made from heavy duty castings should be supplied.
Pumps made with castings
These pumps are designed for industrial duty. These pumps are made of castings rather than stampings, which means that the pump is built for harsher environments and a longer lifespan. This abuse can mean higher internal casing pressure or higher flange loadings. Pumps made from castings must also be used when discharge pressures, flow rates, and pump power are higher.
For example, Carver Pump can make close-coupled pumps that exceed 200hp. Another advantage of this class of pumps is the casings can be made of a larger variety of materials. Cast iron is typically used for non-corrosive applications, while stainless steel, nickel-alloys, and titanium are available for corrosive environments. The thick walls of the casting, relative to other construction methods, allows for some level of material loss due to corrosion (corrosion allowance) and erosion (erosion allowance) .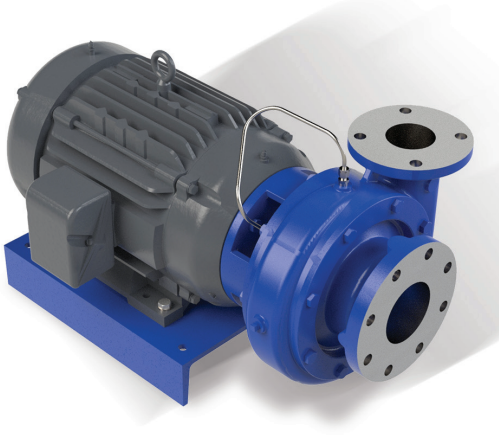 Heavy-duty Carver Model GH
Electric Motors Used for Close-Coupled Pumps
NEMA (National Electrical Manufacturers Association), standardized close-coupled pumps by developing two different shaft length standards: the JM short extension and the JP long extension.
It's important to know that JM and JP shaft extensions are only available for NEMA motors. Most manufacturers do not make JP and JM shaft extensions for IEC motors. Some manufacturers, such as ABB, advertise special pump shafts for IEC motors, but these are typically customized for the application.
The JM (Short) Shaft Extension
The JM shaft extension is compact and requires the use of a mechanical seal. Although the seal options for a JM shaft extension are limited, it's advantageous to seal life. With limited vibration and radial movement, the seal may last longer due to lower deflection at the seal faces.
The JP (Long) Shaft Extension
The JP is a longer shaft extension that provides greater distance between the face of the motor and the hydraulic center of the impeller. Contrary to the JM, the JP shaft extension has more seal options such as single, double, or packing. Longer shaft extensions aid in preventing heat transfer from the pump to the motor. Since heat from hot fluids has further to travel through a longer extension, the JP provides greater thermal separation from the motor bearing, which leads to a better bearing life.
Learn more about shaft extensions for close coupled pumps.
What Are the Commercial Applications of Close Coupled Pump?
Close coupled pumps have a huge range of commercial and industrial applications, including just some of the uses below.
Air conditioning Chilled Water
As many air conditioning systems use chilled water as the main cooling element, choosing the right pump is vital to the success of the system.
High-capacity end-suction close coupled pumps are ideal when dealing with air conditioning chilled water because they offer several important benefits. The first, because of its fixed alignment, a close coupled pump minimizes misalignment of the pump during maintenance. This is something that can cause major issues and will require costly and time-consuming maintenance to rectify. The second is that a close coupled pump is designed to only take up a small amount of floor space, which makes it perfect for residential, commercial, industrial, and even marine HVAC applications where rooms are small and there is little available space.
Commercial Marine Vessels
Close coupled pumps have a wide range of applications on commercial marine vessels, from pumping raw seawater for engine cooling and fire suppression, to transporting fresh and potable water. The failure of any of these functions at sea can be catastrophic putting both crew and vessel at risk. That is why the choice of the pump in commercial marine vessels is so critical.
End suction centrifugal close coupled pumps are frequently in commercial marine vessels in both the engine and plant rooms because they are designed simply, are reliable, and are built to withstand even the most challenging conditions that operating at sea can throw at them. Close coupled pumps are also designed not to take up too much space in the engine or plant room while being very efficient, which makes them ideal for commercial marine vessels of all sizes.
Bilge transfer is one such application in marine applications. Bilge is more than just seawater, in fact, bilge refers to all the liquid that ends up collecting in the hull of a ship. It can contain contaminants such as fuel from leaks, as well as oil and other chemicals.
Close coupled pumps can be used to effectively remove the bilge water from a ship. They are a great choice for such a task and have a high output.
End suction centrifugal pumps and vertical sump pumps tend to be used most for blige transfer tasks. Although it is worth noting that most will require an external priming system to run alongside them.
Learn more about Marine Bilge Pumps.
Cooling Tower Water Recirculation
Cooling towers are used at power plants to eliminate excess heat from the process. Close coupled pumps are a great choice for continuous circulation of the cooling water.
Food Processing Industry
The food industry uses close coupled pumps to facilitate the removal of water from products such as maple syrup and dairy.
Industrial Processes
Close coupled pumps are used in a variety of industrial processes. industrial wastewater treatment to ensure the safe separation of contaminates and water used in manufacturing.
Irrigation Booster Systems
At the center of most irrigation systems for watering crops, gardens, sports pitches, and parks is a close coupled pump. A pump is required because modern irrigation relies on high pressured water in order to distribute it over large areas.
Reverse Osmosis
Those operating marine vessels have two choices when it comes to potable, or drinking water. Buy water from supplies at each port they land in or desalinate their own potable supply from seawater through a process known as reverse osmosis.
To save money, most vessels now have reverse osmosis systems installed, and close coupled pumps are a vital part of these systems. Close coupled end suction pumps are often used for potable water applications due to the fact they are smaller and can fit easily in a confined plant room. Such pumps are cheaper to run, as they do not require alignment.
Close Coupled Centrifugal Pumps By Carver Pump
Carver Pump is a premier pump manufacturer with a high-end range of close coupled centrifugal pumps to meet your pumping requirements.
The GHC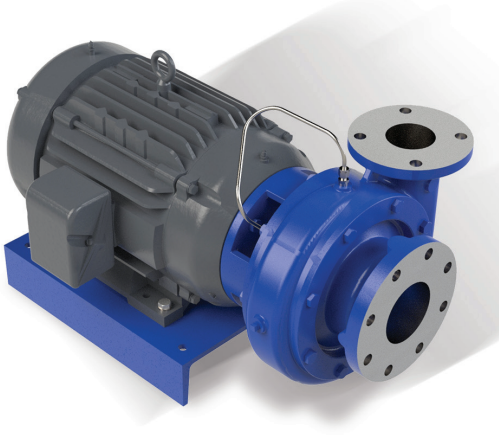 The GHC is the close coupled version of the GH series of centrifugal pumps. It boasts a simple and cost-saving design. The casings are rotatable in 90-degree increments for flexibility and varied field piping directions. The GHC is fully compatible with NEMA JP and JM frame motors, and is also built alongside ISO G2.5 guidelines. Some sizes of this versatile pump achieve 85% efficiency, making it one of the top close coupled centrifugal pumps of this type. It is perfect for commercial marine vessels, paper mill shower water and also drinking water. The GHF uses the same hydraulics as the GHC, but is built with a bearing frame as a frame mounted version.
M-Series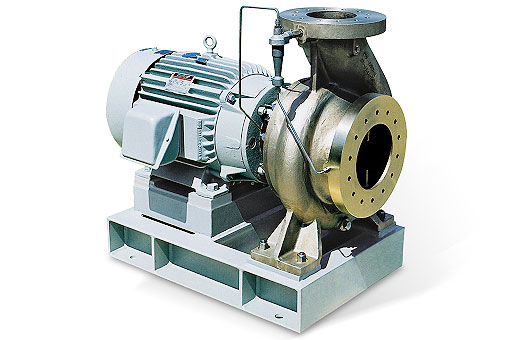 The M-series features 24 sizes suitable for horizontal or vertical mounting. Compliant with ASTM F998 and inclusive of the Navy supplement, with hydraulic efficiencies as high as 88%. With conditions of service reaching 5,000 GPM and 713 feet of head, this is a powerful pump that meets all Naval requirements, including shock, environmental vibration, and both airborne and structure-borne noise. The enclosed impeller design is perfect for pumping low viscosity liquids for a variety of practical operations, including drinkable water supply, fire fighting, and even radar system cooling.
The KWP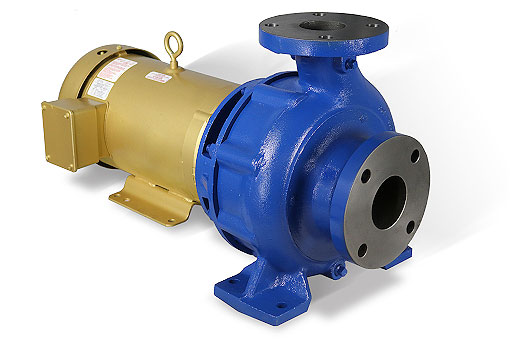 The KWP range comes with a close coupled mount and is designed for fluids with the presence of solids of up to 1.5 inches in diameter. The pump impeller's design ensures the progression of even fibrous liquids, minimizing the build-up of debris within the pump impeller. The KWP mounts horizontally. The design of the KWP makes it the perfect pump to use for wastewater evacuation and treatment, spray paint systems, and gray water management.
Come To Carver Pump For World-Class Close Coupled Centrifugal Pumps
At Carver Pump, we have cultivated a world-class range of close coupled centrifugal pumps. We have over eighty years of experience in building the best pumping systems. Our team has extensive experience in building, selling, and inspecting military-grade and cutting-edge engineering standard pumps. We meet the intense demands of the US Navy and represent the best in American manufacturing. We're proud of our roots in Muscatine, Iowa, and our long history of supplying some of the best close coupled pumps in the world.
Talk to a pump expert
+563.263.3410